In a pivotal move, the Ministry of Education, Youth and Sport of Timor-Leste is participating in the Southeast Asia Primary Learning Metrics (SEA-PLM) programme, the first regional large-scale assessment in the region. Timor-Leste is the most recent addition to countries participating in the SEA-PLM 2024, which is the programme's second round of assessment. Other countries engaged in the program include Cambodia, Lao PDR, Malaysia, Myanmar, the Philippines, and Viet Nam.
The commitment of Timor-Leste to SEA-PLM 2024 promises transformative change in the country as it embarks into its first participation in an international large-scale assessment focusing on foundational learning. The wealth of data and information that comes from the regional evidence strengthens Timor-Leste's position in utilising data in order to guide and shape educational policy and practice in the country.
In the speech of Minister of Education, Youth, and Sport, Her Excellency Ms Dulce De Jesus Soares, during the Field Trial training for Test Administrators and School Coordinators held on 27-28 September 2023 at City 8, Dili, attended by more than 50 field operators and school heads, the programme's inaugural event in the country, she underscored the importance of the training in ensuring the quality and seamless data collection and test administration. Minister Soares highlighted the broader motivation behind the activity: to systematically collect data that can inform and enhance the primary education to improve student learning outcomes.
As the Field Trial activities conclude across all 7 SEA-PLM participating countries, the programme is on the cusp of its highly anticipated Main Survey in 2024. All National Teams, including Timor-Leste's national team, in collaboration with the SEA-PLM Regional Secretariat and key partners are gearing up for the 3rd SEA-PLM Regional Technical Workshop scheduled for December 11 to 15, 2023. This crucial event will revolve around technical discussions and agreements on procedures to strengthen assessment tools and instruments to be employed in the forthcoming SEA-PLM assessment.
Timor-Leste's participation in the SEA-PLM programme signifies a profound commitment to advancing education, not only within the country but also on a regional scale. As the Main Survey 2024 nears, Timor-Leste's prospects for meaningful change in education are brighter than ever as it leverages on learning evidence to support student learning in Timor-Leste and the rest of Southeast Asia.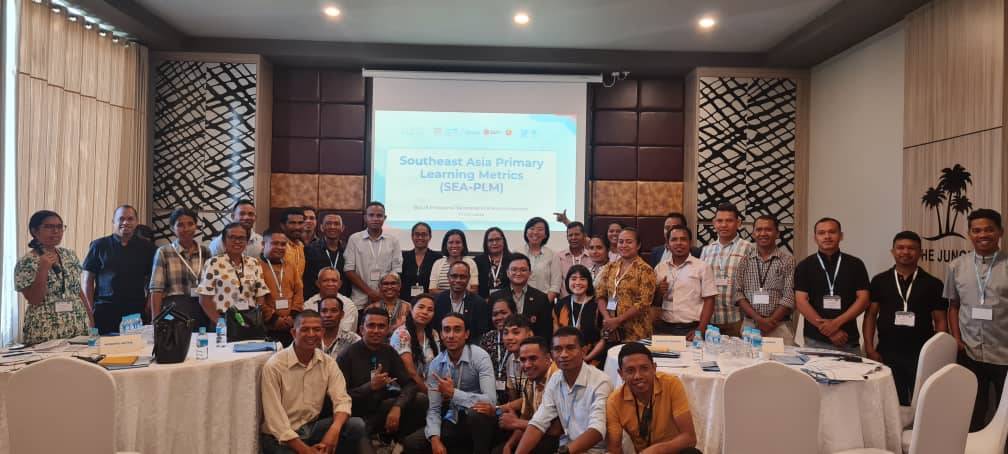 The participants of the training of Test Administrators and School Coordinators in Timor-Leste